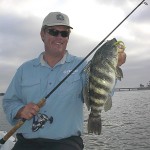 *Click on any photo for a larger look.
The Spotted Bay Bass!  This saltwater cousin to the smallmouth bass fights every bit as hard and is the most common fish you will catch in San Diego's bays and harbors. Topping out at a record 6.5 pounds, fish in the 1 to 2 pound range are the norm. Catchable on bass gear and fly tackle.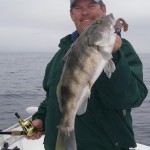 The Barred Sand Bass!  This cousin to the Spotted Sand Bass lives in both the confines of the bays and harbors as well as the ocean. Usually in the bay year round, larger fish move out to spawn during the months of June, July and August depending on water temperatures. Larger fish can be caught in the bay from October to about March. Record for these fish is over 13 pounds! 1 to 3 pounds is common with nicer 4 to 6 pound fish occassionally caught.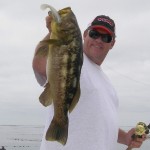 The Calico Bass!  This bass is the most sought after in southern California saltwater. Reaching 14 plus pounds this fish can be found from the outer edges of the bays and harbors to the kelpbeds and deep water structure of the ocean. These bass can be caught year round, but the local kelpbeds really see amazing action from around May to October. Fish average from 1 to 3 pounds with a lot of 4 to 6 pounders during the spawning months of June and July. Trophys range in the 8 to 10 pound range.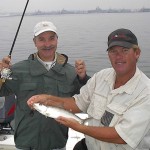 The rare San Diego Bay Bonefish! Yes, they exist and you might hook up with one of these little rocketships. A little hard to target, these fish are usually incidental catches while bass fishing the southern flats of San Diego Harbor. Most ranging in the 1 to 3 pound size, they are great action on light tackle.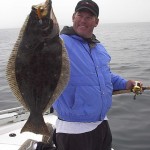 The Halibut!  Found both inside and outside of the bays and harbors year round, this is one of the best eating fish southern California has to offer. They must be at least 22 inches long to keep, but during the months of April through May, depending on water temperature, they move into the shallows and bays to spawn increasing your shot at a keeper.